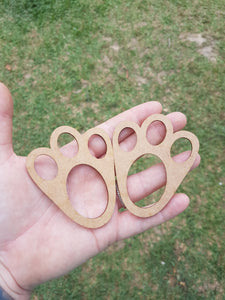 Easter Bunny Paw Prints
Easter Bunny Paw Prints, laser cut in MDF.
Size: 80mm widest point  x 100mm highest point.
Place the bunny paws on the ground and sprinkle with Talcum powder or flour to show the kiddies that the Easter bunny 'hopped' by
Please note that every effort is made to ensure that the images and description of products are accurate, however we cannot be responsible for differences in colour or appearance that may result due to variations in display settings of your computer or mobile device.