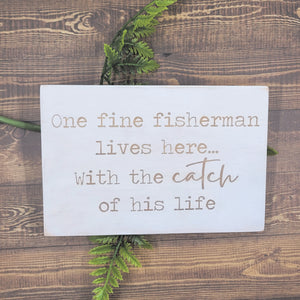 Fisherman Lives Here Sign
Is there a fisherman in your life that needs this sign?

The sign measures 18cm x 12cm, made from 3mm thick Birch Plywood left raw, or 6mm thick Plywood white washed and engraved. (please note: White wash is where the plywood is painted although is watery and is not a solid cover, so you will see the ply/wood through it, it is not a perfectly painted surface)

The sign is designed to be leant against a shelf or item decor.

Please note that every effort is made to ensure that the images and description of products are accurate, however we cannot be responsible for differences in colour or appearance that may result due to variations in display settings of your computer or mobile device. The colours shown are indications only.