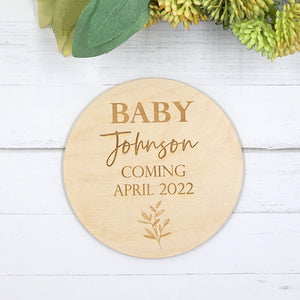 Baby, Coming Soon. Pregnancy Announcement Plaque
A gorgeous photo prop to announce your exciting news with this special keepsake.
Engraved into beautiful 3mm thick Birch Plywood.
Measures 14cm in diameter.
Please note that every effort is made to ensure that the images and description of products are accurate, however we cannot be responsible for differences in colour or appearance that may result due to variations in display settings of your computer or mobile device. The colours shown are indications only. Wood grain can vary from pictures shown.